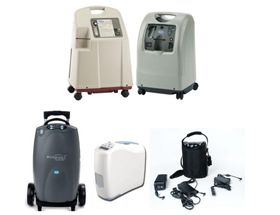 As our population grows older and respiratory ailments continue to increase, the need for oxygen-enriched air is on the rise. Many companies are designing and manufacturing medical oxygen concentrators utilizing Zeochem high performance ZEOX® products to allow customers the versatility necessary to live an "active" life. Zeochem's commitment to develop and produce the highest quality molecular sieve is unmatched within the industry.
ZEOX® products adsorb nitrogen from the air in pressure swing adsorption (PSA) processes, while allowing the oxygen to pass through the system to support patient needs. Through this process, medical oxygen concentrators have the ability to purify air and concentrate the oxygen level to greater than 90%.
The superior selectivity for the adsorption of nitrogen over oxygen is present in all ZEOX® products. ZEOX® OII is a sodium X-type molecular sieve utilized in medical oxygen concentrators with flow rates up to 10 liters per minute. ZEOX® Z12-07 and ZEOX® Z12-49 are lithium low silica X-type molecular sieves utilized to allow for smaller personal oxygen concentrators with minimum power consumption.
Zeochem has a dedicated R&D staff focused on producing the next generation of ZEOX® molecular sieves to further advance the medical oxygen market. Our technical staff works closely with concentrator producers to assist in the design, production and overall quality of the medical oxygen concentrators.