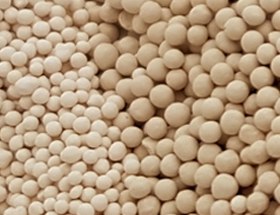 Drying Applications
Zeochem is one of the leading manufacturers of molecular sieves for use in drying applications. Zeochem products offer high physical stability (high crush strength and low attrition), excellent adsorption kinetics and high water equilibrium capacity to secure a low dew point.
High Capacity Desiccants 
Zeochem offers high-capacity desiccants in beaded form based on either synthetic amorphous porous silica gels or molecular sieves. Our high-capacity desiccant is used for static and dynamic drying of liquids, air and other gases.
Molecular Sieve Z3-01
Dehydration of gases and liquids, dehydration of solvents
Molecular Sieve Z4-01
Dehydration of hydrogen, carbon dioxide, air and inert gases, dehydration of non-polar liquids, packing desiccant, air compressor